Cranford Engineering is the quickest place around to come for cylinder head skimming.
The practice of refacing cylinder heads is sometimes called cylinder head skimming or cylinder head machining. Whatever term you favour, the process is identical. It's the flattening of the face of the cylinder head that mates up to the cylinder block. Most (but not all) engines have a cylinder head gasket sandwiched between the head and the block. Over time, or through overheating, some heads can become slightly twisted, warped, dished or damaged by corrosion.
Some heads can be damaged by the cylinder liners moving slightly in the cylinder block. Refacing the mating face can cure most of these developed faults though badly corroded cylinder heads may need to be welded before they are machined. We can weld and repair aluminium heads too if needs be.
Most cylinder heads have combustion chambers. The skimming operation will result in a reduction in volume of the combustion chamber thereby giving an increase in compression ratio (the ratio of swept volume to combustion volume).  This can have the added bonus of increasing power and fuel efficiency.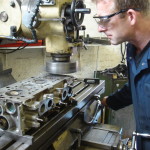 The benefits of coming to Cranford Engineering for your cylinder head refacing:
Really fast turnaround: Sometimes you can even get a while-you-wait service though diesel engine heads and cast iron heads can take a little longer

Cost effective: From £45 plus vat.
Diesel engine cylinder heads can be machined even if they have steel combustion pots
V6 cylinder heads and V8 cylinder heads have the same amount removed from each head
Straight 6 heads also catered for
Good surface finish
Comprehensive welding and skimming service
Minimum material removed unless more is requested
Increased compression ratio
We can also reface engine blocks or machine them as you require. You will need to strip nearly everything off them. If in doubt, ask.
Please call us to discuss any specific requirements on 01372 272380